Ferry House Lodge – Great Accommodation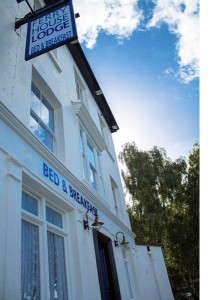 If you're looking for a place to stay in Portsmouth that is very easy to get to, close to the city centre, and ideally situated for the Continental Ferry Port – you can't beat Ferry House Lodge!
This landmark building has been a familiar sight on the road into the city for over 160 years, and now it has been completely refurbished throughout.
We can now boast 12 bedrooms that have been decorated and furnished to a very high standard, all with great en suite facilities. Read more about our rooms here.
The rest of the building has also been totally revamped, with a brand new reception area, completely new kitchen and entirely redecorated lounge and dining areas.
All the restoration work has been carried out with great respect for the Grade II listed status of the building, and many of the original features have been enhanced during the refurbishment, including the original flagstone paving in the dining room.
Whether you are looking for a single night's stay before or after travelling by ferry, or a longer visit to allow you to enjoy some of the sights and events in Portsmouth, you'll find that Ferry House Lodge will suit you perfectly.
Please use our online booking facility to check availability for your chosen dates, or call us on 023 9281 1428 and we'll be happy to help you.
---
The History of Ferry House Lodge
For most of its existence, the Grade II listed building that is now home to the Ferry House Lodge was known as The Market House Tavern. It was built sometime between 1840-1850 and started out as one of many licenced houses owned by the Pike Spicer Brewery. Pike Spicer brewed beer in Portsmouth for nearly two hundred years between the early 1700's and 1910 when the company merged with Brickwoods.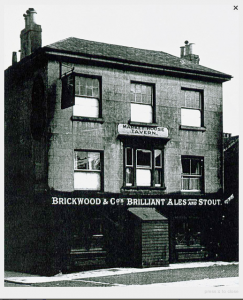 Originally sited on the corner of an ordinary residential street, the building now stands on its own – the wartime bombing and subsequent redevelopment of Portsmouth leaving it positioned conveniently towards the end of the M275 access road in Portsmouth.
A Family Business
We can see from the 1881 census that the landlord at that time was George Edward Whiting, aged 66, and his 45 year-old wife Jane. They had three sons living with them although as George's oldest son was 34 at the time, it would seem Jane must have been his second wife. There was also a 'domestic servant' called Emily Burder, aged 23, living at the address. It seems that by 1889 Jane was running the premises, and by 1911 it had passed to her middle son, William. He last appears in the census in 1920, so we can say that the management of the pub stayed in one family for at least 40 years at one point!
Part of Portsmouth's Local History
The building is just a very short walk from the Mile End Conservation Area, which includes the remaining vestiges of Old Commercial Road, a terrace of Georgian and Victorian houses, including the birthplace of Charles Dickens.  Sadly, as Dickens left Portsmouth while still quiet young – before the pub was built in fact – we can't claim him as an early patron.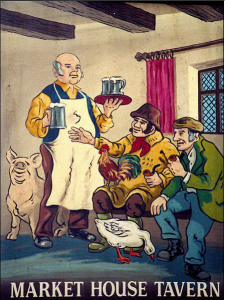 An early pub sign featured the landlord serving pints to a besmocked worker, while surrounded by farm animals. Given the name, it's very possible that the pub was a gathering place for farmers and agents on market days – although whether this is an accurate or romanticised version of the pub's history, we're not quite sure.
Listed by English Heritage
The Market House Tavern was listed in 1972, and the English Heritage site describes the 'Welsh slate hipped roofs' along with 'fixed casement with overlight, brown tile panelled apron, paired pilasters at quoins and between door and windows, timber frieze and cornice runs across' all features which are still present.
The End of an Era…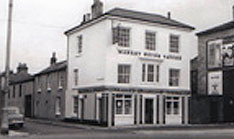 The then owners, Brickwoods, in their turn merged with Whitbread and the fortunes of the pub waxed and waned, enjoying periods of prosperity, followed by times when it became very run-down and neglected.
This culminated in the decision to sell the property, and attempts to get planning permission to demolish it and replace it with a large hotel. However, we're happy to say that the building's character and history have not just been saved, their are being enhanced by a group of local businessmen who were determined to help keep the long tradition of this landmark as a hostelry.
…and the Beginning of a New One
Having bought the former Market House Tavern they are refurbishing it to a very high standard, taking into account the Grade II listed status and original features of the building, thus preserving it for future generations of visitors to Portsmouth.