Comfortable, Spacious, Well-Equipped – Our Rooms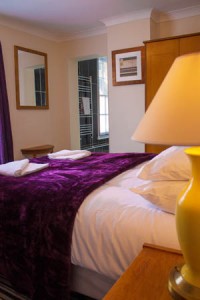 Our rooms are arranged over three floors, and come in a variety of shapes and sizes, as you would expect with an older building. Not for us the sterile, standard layout of a modern hotel block! Each room has its own individual touch – we've had fun selecting lovely light fittings, interesting prints and character furniture to compliment the space.
Ferry House Lodge offers a choice of 12 superb bedrooms. All have en suite bathrooms or shower rooms ? most with huge walk-in showers.
Facilities in all rooms include:
free wireless internet (also in public areas)
digital TV
wardrobe and bedside cabinet
ironing facilities
hair-dryer
tea and coffee tray
complimentary toiletries
In our larger premium rooms we also provide a table and chairs.
Room Descriptions
Standard Doubles/Twins/Singles
Our standard rooms all have en suite shower and toilet room, comfortable beds and all the facilities you would expect in a good hotel room.
Our two ground floor rooms are ideal for disabled access. Due to the listed nature of the building, and the restrictions placed on the work we could therefore carry out, we have not been able to make our rooms or en suite facilities wheelchair accessible.
Premium Doubles
Our Premium Double rooms are very spacious, with generous double beds, additional wardrobe space and large en suite bath and/or shower rooms. Room 7, in particular boasts a wet room with with a fabulous 'raindrop' shower.
Superior Doubles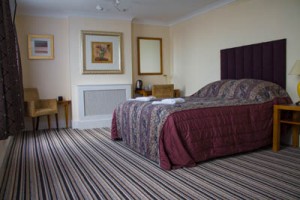 Our upper Superior Double, Room 12, has a desk in the sitting area, and two easy chairs in the large bedroom. The en suite shower room is generous in size and excellently finished.
Room 8, also a Superior Double, is a large, airy room with easy chairs and a coffee table provided in one corner, and a large bath/shower room.
They are both ideal for a longer stay, or for a business visitor who needs space to work.
If you have any particular requirements please don't hesitate to call us.